Article
Jump into Summer, Jump into Fun in Branson
School's out for summer, and it's time to get your fun on in Branson! Check out these awesome summer attractions your family is sure to love, through rain or shine.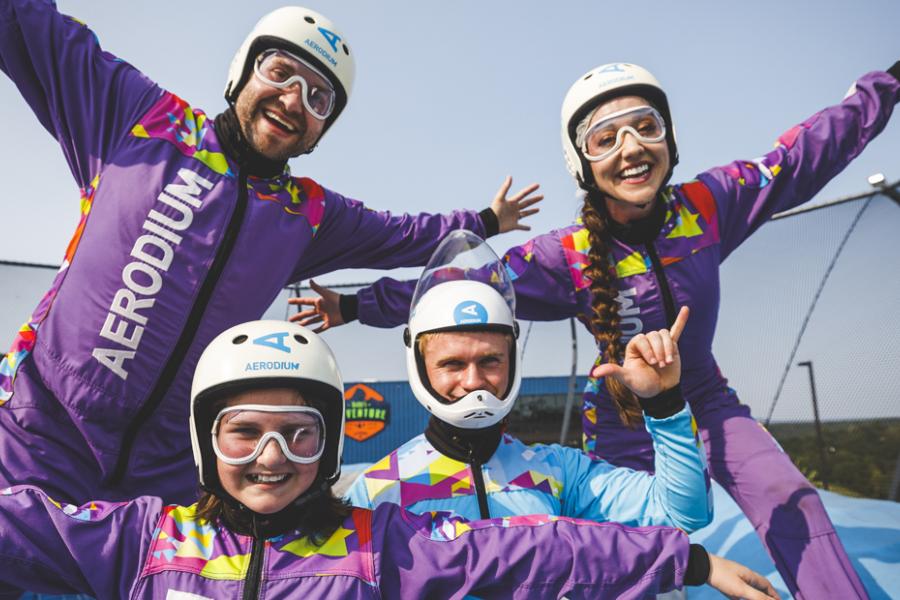 Indoor Attractions
Ancient Ozarks Natural History Museum – Located at Top of the Rock, this museum highlights the history of the Ozarks, including skeletons of ancient animals that lived in the area and Native American artifacts.
Andy B's Bowl Social – Enjoy a delicious meal before or after you enjoy a game of bowling, sing your heart out in a private karaoke room, transport into a new world with virtual reality games, make your way out of an escape room or enjoy one of the many table games on display.
Arcade City, The Mirror Maize and 7D Dark Ride Adventure – Located at Branson Landing, this trio of amusements will keep your family entertained for hours.
Branson Auto & Farm Museum – Check out the more than 100 cars and antique tractors in this 78,000 square-foot facility.
Branson Scenic Railway – Hop back in time and experience a 40-mile historic train ride through the Ozarks that starts and ends at the 1905 depot in downtown Branson.
Branson's Wild World – Get up close and personal with over 180 species of animals. You can also play 3D blacklight mini golf or enjoy one of the five movies in their XD motion theater.
Butterfly Palace & Rainforest Adventure – Walk through thousands of free-flying butterflies and also visit the insectarium filled with incredible creatures.
Celebrity Car Museum and Attraction – Enjoy over 100 iconic movie and T.V. show vehicles, as well as costumes and props from some of your favorite shows.
Dick's 5 & 10 – Browse one of America's last remaining dime stores filled with over 75,000 unique items you will love! Dick's also has some interesting collections to view such as the Baseball Wall of Fame!
Dinosaur Museum – Walk through the over 40 life-sized dinosaurs on display and learn about what made each of them unique.
Dolly Parton's Stampede – Come see an amazing performance of 32 horses and their talented riders; "Canine Capers," an action-packed stunt dog performance and hilarious comedy, all while enjoying a delicious four-course feast. 
The Escape Branson – Located in Historic Downtown Branson, The Escape Branson has three mind-blowing escape rooms your group will love.
Escape Code and The Axe Game – Recently voted the Fifth Best Escape Room in America by USA Today, Escape Code provides a thrilling challenge for your group. And who doesn't want to try their hand at axe throwing?
Fritz's Adventure – Experience three stories of hand-on climbing, tunneling, sliding, swinging and zip-lining adventures throughout this 80,000 square-foot facility.
Fun Mountain at Big Cedar Lodge – Enjoy 50,000 square feet of fun: arcade, spinning and flipping bumper cars, underwater-themed bowling, laser tag, climbing wall, billiards and a golf simulator. There's also a Kids' Climbing Area & Sky Tykes, an indoor ropes course for the littler ones.
Fun Spot at Grand Country – There's something for everyone at Fun Spot, including Mountain Ridge Racer Indoor Go-Karts, laser tag, White River Black Light Mini-Golf, a 36-hold indoor mini-golf course, an XD Dark Ride, arcade, Spin-Zone Bumper Cars and Mini-Bowling. Outside, check out their Farm Mini-Golf.
History of Fishing Museum – Fishing enthusiasts will be amazed by the 40,000-piece collection of antique fishing lures, rods, reels, boats and motors.
Hollywood Wax Museum – Head towards the Great Ape climbing the skyscraper and you'll find the Hollywood Wax Museum, filled with wax figures that look just like your favorite celebrities! You can also experience the Castle of Chaos, a 5D shoot-em-up adventure that the entire family can enjoy. Finally, try to make your way through Hannah's Maze of Mirrors if you dare! Outside, check out Shoot for the Stars Mini-Golf.
IMAX Entertainment Complex – Whether you want to watch an IMAX-style movie or a Hollywood feature film, IMAX is the place for you.
Inspiration Tower at Shepherd of the Hills – Take in the panoramic views of the Ozark Mountains from 230 feet up, the highest point in Southwest Missouri.
Landing Axes – Come throw some axes for a little friendly competition and a lot of fun.
Main Street Marina's Lake Queen Sightseeing Cruise – Enjoy a tasty lunch while onboard the Lake Queen, a replica of the grand river boats that used to float along the White River through Branson, while seeing the beautiful landscape along Lake Taneycomo.
Main Street Marina's Landing Princess Dinner Cruise – Set sail on a luxury sightseeing cruise on Lake Taneycomo where you will enjoy a delicious dinner and where you might even catch a glimpse of a bald eagle!
Ripley's Believe It or Not! – Wander through eight galleries of over 450 amazing artifacts, art, illusions and interactive exhibits – fun for the entire family!
Showboat Branson Belle – Come aboard the Showboat for delicious food, an entertaining variety show featuring music from the 60s to today and a relaxing cruise on Table Rock Lake. During the summer months, kids might especially love the Princess & Pirate Cruises on Sunday mornings.
Splash Country Indoor Waterpark at Grand Country – No matter the weather outside, it's just right inside Splash Country. Climb, slide and float your way to fun!
Talking Rocks Cavern – Just west of Branson, Talking Rocks Cavern is a cool 63 degrees year-round! Above ground, you can mine for gemstones, play mini-golf and enjoy the outdoor kids' area.
Titanic Museum Attraction – Walk through one of the largest collections of authentic artifacts and interactive exhibits and feel the story of the Titanic come alive.
Veterans Memorial Museum Branson – Take in exhibits that feature the wars of the 20th century. Also featured on the walls of the museum are the names of those killed in action from World War II through the USS Cole bombing.
World's Largest Toy Museum – Explore over 1 million toys from the 1880s to today.
Outdoor Attractions
76 Flylines – Zipline above the trees across from the famous W 76 Country Blvd. in Branson for a great view of the Branson Entertainment District!
Adventure Ziplines – Located in the heart of Branson, Adventure Ziplines features a variety of ziplining experiences, including "Zip at Night."
Bass Pro Shooting Academy – Shooters of all skill levels will love the ATA Trip, Wobble Trap, American Skeet, Sporting Clays and 5 Stand available at this amazing facility.
The Branson Coaster – The first double Alpine coaster ride in North America, the Branson Coaster is a thrilling experience you don't want to miss!
Bigfoot Fun Park – There's something for everyone at Bigfoot Fun Park. Thrill-seekers will love the Action Tower with two exciting thrill rides. Also on park are Bigfoot Adventure Mini Golf, 8Di Theatre & Action Ride, Adventure Maze & Yeti Play Zone and the Games & Entertainment Arcade. Additionally, three different tours—Bigfoot Discovery Expedition, Scottish Highland Farm Tour and the Ozarks Off-Road 4x4 Tour—leave from the park.
Branson Helicopter Tours – Get a bird's-eye view of Branson on an exciting helicopter tour. Choose from a variety of tours, each with a unique view of the area.
Branson Jet Boats – Get ready for a thrill on Lake Taneycomo. Along with hearing interesting history of the area and seeing beautiful scenery, you will experience the thrill of the boat spinning and sliding under the direction of Coast Guard-licensed captains. And, you might get (very) wet!
Branson's Promised Land Zoo – Experience the zoo on foot or from the comfort of your vehicle. Want to get closer to the animals? Check out the VIP experiences offered.
Branson Segway and Adventure Center – Master the Segway on the customized, free-roaming track. 
Branson Zipline and Snowflex Tubing Park at Wolfe Mountain – Choose from several zipline canopy tours or try tubing down the "snow" on Wolfe Mountain, just north of Branson.
Chopper Charter Branson – Choose one of their helicopter flight packages or customize a flight just for you.
Dinosaur Canyon Golf – Enjoy this 18-hole mini-golf course that features your favorite dinosaurs along the way.
Dogwood Canyon Nature Park – Spend the day hiking, biking, horseback riding or fishing at Dogwood Canyon. You can also take a Segway or Wildlife Tram Tour to explore more of the canyon.
Fritz's Aerodium – Feel like you're skydiving as you are suspended above a vertical wind tunnel. No experience necessary!
Kayak Branson – Kayak, canoe or paddleboard with or without a guide on Lake Taneycomo or Table Rock Lake.
Lost Treasure Golf – You can't miss the huge airplane featured above the two 18-hole mini-golf courses where you will search for lost treasure.
Main Street Marina Watersport Rentals – Check out the unique watercraft rentals available at Lake Taneycomo's Main Street Marina: CraigCats®, which are power catamarans; HydroBikes; Stand-Up-Boards; and Kayaks.
National Tiger Sanctuary – Home to an African lion, a black leopard, a Bengal tiger and more, the National Tiger Sanctuary allows you to see these majestic exotic animals up close. It's an experience you won't forget!
Parakeet Pete's Steampunk Balloon – Ride to the top and experience 360-degree views of Lake Taneycomo and Branson Landing.
Parakeet Pete's Waterfront Zipline – Zip across Lake Taneycomo and back on this two-person ziprider and get a spectacular view of Branson Landing while you're at it.
Pirate's Cove Adventure Golf – This award-winning mini-golf course provides an exciting adventure as you are immersed in the world of 18th century pirates.
Runaway Mountain Coaster at Branson Mountain Adventure – This mountain coaster races down 5,000 feet of track at speeds up to 30 miles an hour.
Shepherd of the Hills Adventure Park – Recently award the Best Aerial Adventure Park by USA Today, Shepherd of the Hills has amazing experiences to enjoy including a Ropes Course, Zipline Canopy Tour, the Vigilante Extreme ZipRider and the Off-Road ATV Adventure.
Silver Dollar City – This 1880s-themed park features world-renowned roller coasters, thrilling rides, live shows, demonstrating craftsmen, unique shopping, Marvel Cave, delicious food and unique festivals throughout the year.
The Track Family Fun Parks – Between their three facilities along W 76 Country Blvd., The Track Family Fun Park offers high-rise and classic go-karts, bumper boats, bumper cars, mini-golf, laser tag, batting cages and arcades. You can also take a leisurely spin on the iconic Branson Ferris Wheel or get your adrenaline pumping on the Skycoaster or the Skyscraper.
White River Kayaking and Outdoors – Your source for kayak, canoe and paddleboard rentals for use on Lake Taneycomo. They also rent bikes.
White Water – Beat the heat with the park's 13 acres of water rides and attractions designed to cool off the entire family.
Xtreme Racing Center – Experience world championship European racing karts. Race against yourself or the competition and see who's fastest!